Recently I stumbled on a Google product called Google Data Studio.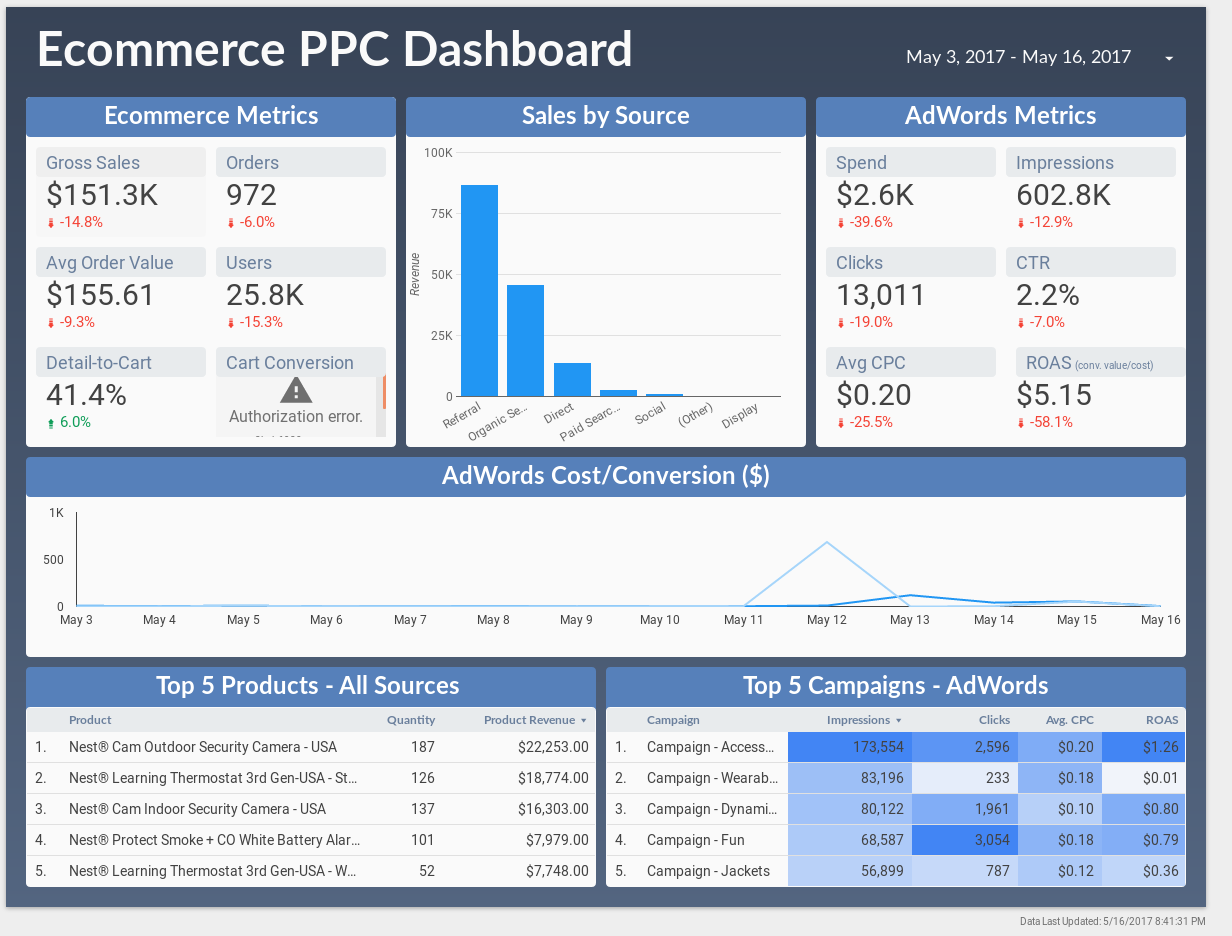 You can think of it like Google Sheets but for dashboards and data visualization.
I happened across it while reading up on SEO but it does so much more than that.
It can pull in data from various sources:
File uploads
AdWords
SQL databases
Google Analytics
Google Sheets
Search Console (Webmaster Tools)
Pulling data from Google Analytics
The primary use case I wanted to look at was how my websites were performing in Google Analytics. Analytics is great but there are so many pages and screens that it's difficult to get a high-level pictured of everything.
What I really wanted was a high level Shopify dashboard for my app.
With about 5 minutes of clicking I was able to create a dashboard for all of my Shopify apps showing the number of conversions, sessions, and conversion rate ranked by source. All pulled from Google Analytics live.
Calculated custom fields for conversion rates
The interesting part was that conversion rate by source isn't a data type from Google Analytics. It's a calculated custom field I added to Data Studio that divides my sessions by the number of conversions (conversions / sessions).
Easy setup
I've built dozens of dashboards in the past for clients, SaaS apps, and Shopify stores. This has to be the easiest one I've ever created.
Even if I have to write some code to pull in from some custom data sources, this is still way easier than anything else I've used.
Not even counting the fact that it already hooks up to one of the largest data sources I use (Google Analytics).
It's still a beta Google product so it could be shutdown or change at any time, but I think it could be a great alternative to expensive custom business dashboards or no dashboard at all.
Just think what you could do if all of this data lived in one place:
Traffic (Google Analytics),
conversions (Google Analytics),
product sales (Shopify),
customer repeat purchases (Shopify),
SEO (Search Console).
You'd end up with an easy way to have your own Shopify dashboard app but without any monthly fees.
Customer behavior analysis for better Shopify store performance
The Shopify App that increases repeat customer purchases through customer behavior analysis.